An oil company transforms into a sustainable energy provider


Case Study: PowerAdvocate
Engaging new audiences
By investing in content marketing, PowerAdvocate was able to deliver highly valuable, timely, and relevant information about the emerging risks operators in the energy sector face – and how the company is uniquely positioned to help organisations get to the next level during these turbulent times.
The challenge
In today's complex business landscape, oil and gas operators face more challenges than ever before. Not only do they have to keep crews safe and protect the environment, they also have to cater to shifting consumer and investor sentiments that expect organisations to operate ethically.
The objective
PowerAdvocate was seeking a way to elevate its digital content strategy by expanding its reach in a familiar and trusted environment. Using thought leadership to discuss and explore these challenges deeper, the company was able to engage with the right people in the right place at the right time – helping them achieve their business objectives.
Leveraging the extensive experience we have in publishing high-quality content for partners across the energy sector, the Upstream team sat down with PowerAdvocate SVP James Wagstaff to fully understand the company's objectives and desired outcomes.
We created content that highlighted two videos while ensuring complete visibility across Upstream's digital platforms. As a result of our partnership, Upstream has demonstrated that our resources and knowledge of C-suite-level executives and decision makers can help organisations optimise marketing spend and generate rapid ROI.
The content
Placement on Upstream's homepage in a spot specially reserved for sponsor content that lives alongside editorial articles.
Links to the content were inserted at the end of each news article, increasing visibility.
Content marketing section
All content is archived on a dedicated section of our website. Each piece continues to see traffic after the live campaign has expired.
The campaign also appeared as a banner ad—sharing space with the day's top headlines.
Additional traffic came from promotion across Upstream's social media channels, increasing reach further.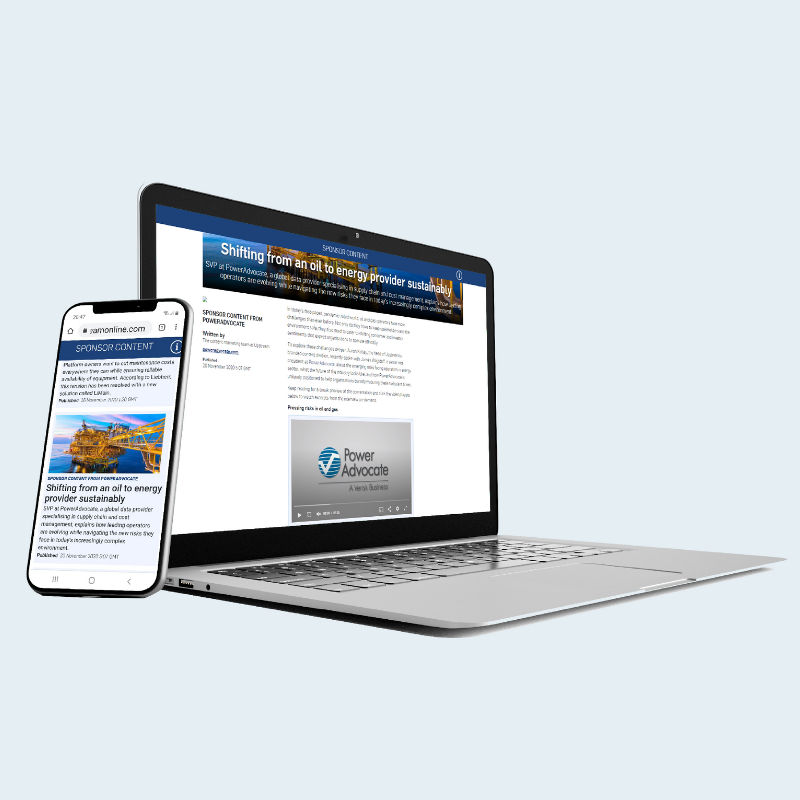 The results
Traffic, visibility and engagement performance for the two week campaign.
View other campaigns on our content marketing section of the Upstream news website.
250k
Impressions
1,381
Page views
02:10
Average time on page
42%
Read article in full